ICT GISP Connects Local Tech Leaders and Educators on the Gold Coast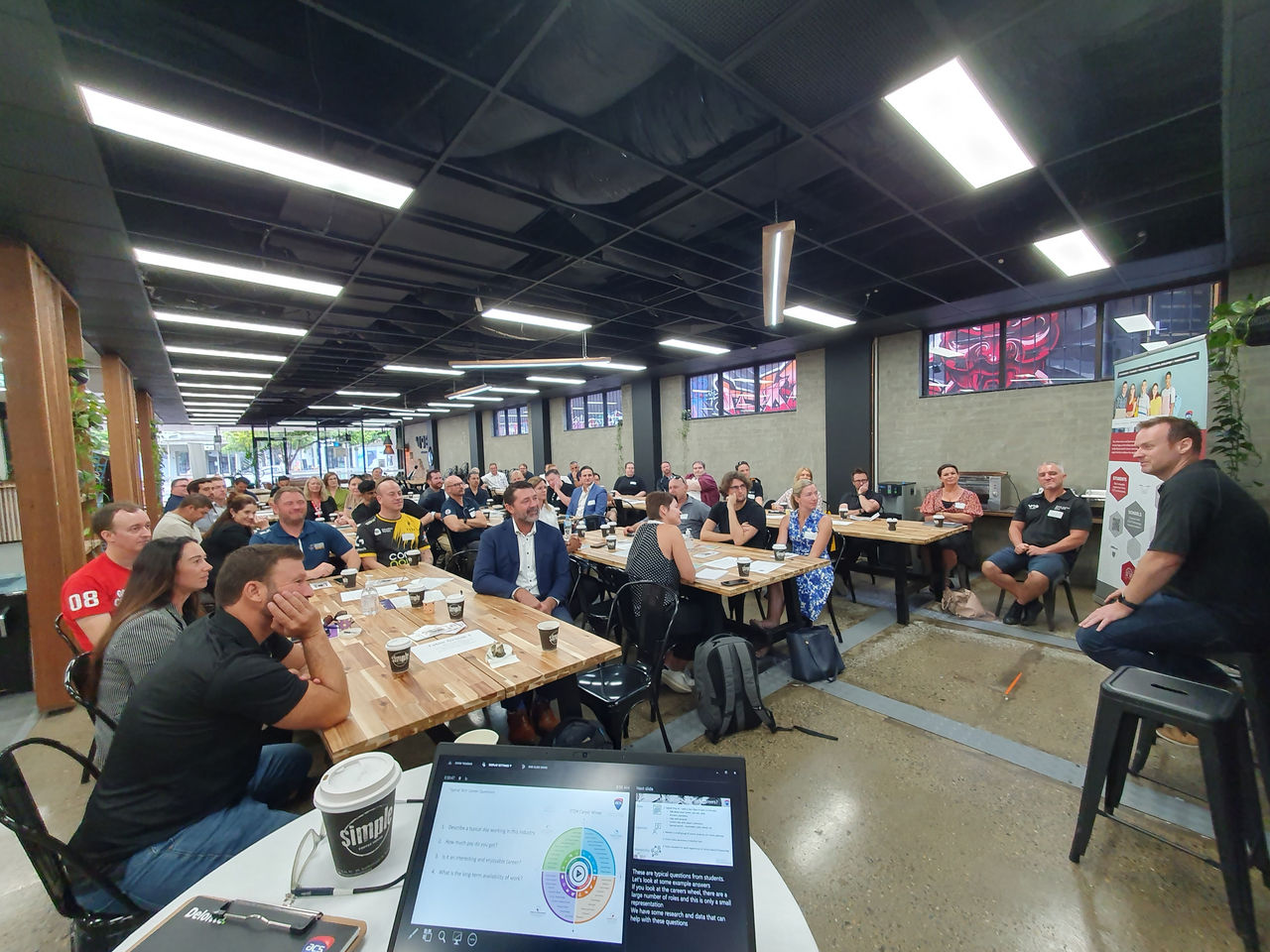 A big thank you to the Gold Coast tech community for supporting our #ictgisp Educator to Industry Breakfast at Men of Business Academy.
65 tech innovators, academics, business leaders and ICT GISP school reps were part of our breakfast an information morning. The purpose of this event was to give you an opportunity to make a range of connections with our local tech and business ecosystem for future opportunities to promote careers in tech to our students.
Michael A. Cowling (Professor Tech), Daniel Aivaliotis-Martinez (The FUSE Cup International School Esports) and Adam and Royce from the Micromelon Robotics team provided the hands-on component after the panel, keynote and breakfast discussion.
Special thanks to ACS team of Cynthia Gusman-Nolan, Luisa Grant MAICD, Ciarán Doherty, Beau Tydd, Melanie Long and Mathew Eames for support. Thank yu alos to Men of Business Academy's Nathan Antonik and Marco Renai.
The organisations represented at the breakfast include:
| | | | |
| --- | --- | --- | --- |
| ACS | Emmanuel College | Lloyds Auctions | Southern Cross University |
| AITC Robina | Entag | Men of Business Academy | Study GC |
| Blockchain Collective | GC Innovation Hub | Mercury IT | TAFE |
| Blockstars | Griffith University | Merrimac State High School | The Create Lab (Prof. Tech VR) |
| Bond University | Hillcrest Christian College | Micromelon | The Fuse Cup |
| Canterbury College | IBM | Next Level Racing | Toast VR |
| CFC Response | IGEA | Protech | Trinity College Beenleigh |
| City of Gold Coast | Josiah College | QMI | Westpac |
| CQUniversity | Kings Christian College | Saint Stephen's College | Zenva |
| DCHDE | KPMG | Solis Security | |
#acs #ictcareer #ictcareers #gatewayschools #gatewaytoindustry #trainingqId #celebratetraining #ictgisp | The Queensland Government, through the Department of Employment, Small Business and Training, funds this ICT Gateway to Industry Schools project